Steel Buildings Systems for Home or Business
If you are planning to build a commercial building— or a structure personal use— pre-engineered metal buildings deliver the best building value.
Here's why your best building deal is steel:
1. Faster Delivery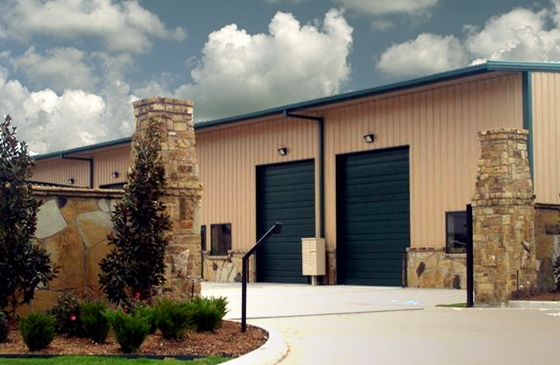 Using pre-engineered steel buildings saves time. Receive your RHINO building in five to seven weeks.
2. Faster Construction
Mechanization shortens your building time. All the framing components arrive at your site cut, welded, punched, painted, clearly marked and ready to start erecting. Simply assemble the kit by following the step-by-step instructions. Think of it as an adult-sized version of a kid's erector set.
Using RHINO steel buildings cuts erection time by about 33%.
3. Consistent Quality
Traditional wood construction requires you buy 15-20% more lumber than needed to cull out the split, warped, and inferior studs. Manufactured to exacting standards and precise tolerances, pre-engineered steel buildings assure consistent in strength and quality. There's no guesswork.
4. High-Strength Connections
Nails and staples used in conventional wood building work out over time. The frame loosens up as it shifts, sags, and settles. Doors and windows start to stick. Corners bend. Floors creak.
Rigid steel-framed buildings employ high-strength bolts and self-drilling screws for all connections. Pre-engineered steel buildings assemble straight and true— and stay straight and true— for the lifetime of the structure.
5. Superior Protection
You are purchasing this building to protect something— your business, your family, or your possessions. You want the best protection possible. Steel buildings meet extreme weather challenges and normal aging better than other building materials.
Your RHINO building will meet or exceed all local building codes for the lifetime of your structure.
6. Eco-Friendly
Steel is the most recycled material on the planet. Unlike other materials, recycling steel does not change its strength.
Adding Pro-Value insulation to prefab metal homes and buildings nets big energy savings, reducing heating and cooling bills by as much as 50%
7. Attractive Exteriors
Finish your new building in any style you prefer. Use brick, stone, glass, stucco, tilt-up concrete, or even wood. Or choose the attractive and colorful steel panels, which can carry a 30-year guarantee. (Reflective cool panels are also available for additional energy savings.)
8. Floor Plan Flexibility
Pre-engineered metal buildings take advantage of the full strength of steel. No load-bearing interior walls are needed. You can literally put interior walls wherever you wish. Draw your floor plan on the slab with a piece of chalk, if you like. Remodeling a steel building is easy. Adapt your floor plan as needed. Add or delete interior walls without worrying about compromising the structural integrity of the building.
9. Easy Expansion
As your needs change, so can your pre-engineered steel building. Extend your building at any time by ordering more steel frames to add to your endwalls.
10. Inorganic
Steel is an inorganic product. It will not attract or support mold, fungus, termites, or vermin. Nor does steel bend or warp with moisture changes like wood framing does.
Since metal is a great conductor of electricity, a properly grounded metal building is highly unlikely to suffer damage from lightning strikes.
11. Insurance Discounts
You will need builder's risk insurance for a shorter time, since pre-engineered metal buildings assemble quicker than labor-intensive wood-framed structures. Using a strong, commercial-grade, fire-resistant material like steel earns big property insurance discounts with most carriers.
12. Low Maintenance
Pre-engineered steel buildings require very little maintenance. Over the lifetime of the structure, this can save you many hassles— and a lot of money.
13. Cost-efficient
Historically, steel prices are far less volatile than other building materials. Economical to buy, less expensive to construct, and more economical to operate, pre-engineered metal buildings provide the best long-term investment in construction
Call RHINO Today for Free Quotes
It is easy to see why 65% of all low-rise commercial buildings in the U.S. now use steel. Consider ordering a durable RHINO metal building for your next project. Call RHINO today at 940.383.9566.