The Architectural Advantages of Steel Construction
Today designers choose steel buildings for their low-rise, non-residential projects. Steel framing frees designers to create beautiful, practical structures within the project parameters.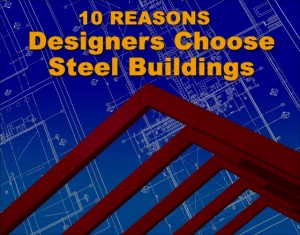 Steel building leads the U.S. market today. Steel frames 50% of all low-rise, non-residential construction. Low-rise commercial designers choose steel framing for 71% of all projects. Steel accounts for 95% of all industrial construction in the U.S. The agricultural market overwhelmingly builds with steel.
There are many reasons for steel's market dominance. The following list covers ten advantages pre-engineered steel building systems offer specifically to architects and designers.
1. It is easier to design a building with steel.
Innovative software developed by the steel building industry permits design, analysis, and detailing to flow easily. With sophisticated 3-D modeling software, designers view steel plans from every angle.
Once a floor plan is created and approved, ordering a pre-engineered metal building is simple. The steel company engineers the structure to meet all local building codes, fabricates the steel, and ships the completed framing package to the job site.
2. Steel framing provides complete design freedom.
Whether the project calls for a no-frills basic box or a sophisticated, eye-popping structural masterpiece, structural steel is the answer. No other building material provides the span, strength, and design flexibility of steel. Whatever can be imagined can be created with steel.

3. Steel construction creates more with less.
Pre-engineered steel buildings produce a highly stable structure with surprisingly little material. Steel columns occupy 75% less space than equivalent concrete supports. Typically spaced at 25' intervals, rigid steel frames are far less complicated and less labor intensive than wood or light-gauge metal framing. Steel allows the unobstructed space, large glass areas, and towering ceiling heights not possible with more restrictive building materials.
4. No other building material matches steel's strength.
Steel boasts the highest strength-to-weight ratio of any structural material. Recent innovations in production make today's steel stronger than ever before.
Steel's strength means less framing is required. A lighter building reduces the amount of concrete needed foundations.
5. Steel framing hides quietly behind any facade.
Metal buildings do not have to look like barns. Clad steel buildings in brick, stone, stucco, glass, tilt-up concrete, or any other common exterior material.
In many modern structures today, designers leave steel columns exposed for striking design elements.
6. Designers' clients appreciate the cost effectiveness of steel buildings.
Regardless of arresting aesthetic appearances of the design, the bottom line still rules. Steel framing is not only the practical choice for most building projects; it is also the most cost-effective choice.
Increased production efficiency has kept steel competitively priced. Most designers find overall construction costs considerably less with steel.
Low maintenance, high-energy efficiency, and discounted insurance promises lower operating costs, for steel buildings, too.
7. Designers depend on the consistency of steel.
Wood's strength differs from species to species, and forest to forest, with wide variations in performance. Cast concrete's strength depends on the expertise of the contractor, the quality of the mix and aggregates, and weather conditions when poured.
Steel's strength is consistent and verifiable. Manufactured in quality-controlled factories, steel framing components fabricate to exacting tolerances. Every piece is cut, welded, drilled, and painted by expert fabricators, guided by detailed engineering drawings— and rigid industry standards.
8. Clients love the fast, easy erection of steel framing.
Factory-created steel buildings reduce construction time. The framing arrives at the project site ready to unload and assemble. High-strength bolts and screws make erection go quickly, especially with an experienced, professional framing crew. Projects rapidly reach the "dried in" stag, allowing interior work to continue regardless of the weather.
9. Designers rely on the simplicity of steel framing alterations.
As client needs evolve, the designer may need to remodel the original design with additional space. Pre-engineered steel structures modify simply and inexpensively— especially at the endwalls. Business as usual continues for the steel building occupants, with very little disruption.
Steel also makes interior renovations for changing tenants a snap. Since the frames are self-supporting, modification of floor plans is usually unrestricted.
10. Steel's high-recycled content makes it the ideal green building material.
Today's structural steel averages 88% recycled content. Able to be recycled countless times without losing any characteristics, steel leads the world in recycling.
Design for the future with strong, durable, eco-friendly steel.
Perceptive designers choose steel buildings for their low-rise projects. Experienced steel building designers depend on RHINO Steel Building SYSTEMS. RHINO works with designers and architects to create lasting beauty with functional steel buildings.
Are you impressed by the many advantages of steel buildings? Call a RHINO steel building specialist now at 940.383.9566. Learn more information about our products and systems. Ask for a fast, friendly quote on your next project.