Know Exactly What You Want from Your New Steel Building
What is the first time buyer's biggest mistake when buying a metal building? It is not completely thinking through what they want from their new metal building structure.
Don't decide you want a new building and immediately start looking for steel building quotes online. Your pre-engineered steel building company serves you best when you have a clear idea of what you need.
End Use
First, what is the purpose of the building?
• Will it be a garage for your cars and RV?
• Will you want additional space to repair the vehicles or to use as workshop?
• Will you need water and plumbing for a bathroom?
• Do you wish to insulate the building?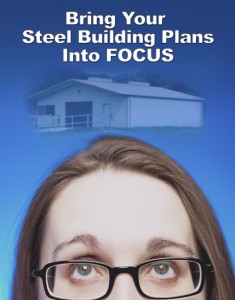 Thinking through the end use for your structure allows you to estimate how much space is required. Many people find they actually need 20% more space than originally guesstimated.
Dimensions
Pre-engineered steel buildings are measured from the outside of the steel framing. The building height is measured by the outside wall, called the eave height.
Look where you plan to erect the building. What dimensions would best fit the site and your space requirements? Would a 40' wide x 60' long steel building, or a 30' x 80' structure, or a square 50' x 50' best fit your site and your needs?
Is there a chance you might want to expand the building later? If so, does the site allow room for longer structure?
How tall is your dream building? For example, if you plan to house your RV, you will want plenty of clearance above your RV— and anything mounted on the RV roof like an air conditioner or antenna. Once you have chosen a door height, allow a minimum of 2 feet above that for the building height.
Style
What style structure do you envision?
Do you prefer a clear span or modular steel frame? A clear span frame eliminates interior steel columns, providing you more freedom within the building. Modular frames, with a minimum of interior supports, are usually more economical.
What roof style and pitch do you favor? Most metal buildings have a gable roof with a 1:12 pitch. However, steeper pitches and hip roof designs are also available. In general, the lower the pitch, the more economical the building will be.
Do you prefer to use colorful steel exterior panels, stone, brick, glass, or other exterior treatments? How many doors or windows do you want? Where do you want them located? Do you plan to include skylights, vents, or gutters and downspouts?
Are you unsure about the right look for your ideal metal building? Look through metal building web sites for ideas.
Knowing your plans in advance allows the steel building specialists to anticipate your needs and provide you with an accurate quote.
Permitting and zoning
Before you begin the metal building buying process, call your local building department. What loads and codes are required? Are there any restrictions on size, height, or type of structure at your location? Will zoning laws affect your metal building plans? Are there easement requirements at your site?
Sharpen your vision
A picture really is worth a thousand words. Create a rough sketch of your dream metal building. Anything you give your metal building specialist to clarify your vision makes communication stronger. The more specific you can be, the quicker your metal building company can capture your vision.
Let RHINO turns your dream building into reality
When you have your dream building ready to price, call RHINO Steel Building Systems for a no obligation estimate.
Once our experienced metal building specialists grasp your dream, you are on your way to creating the perfect structure designed specifically for you and your location. We can offer helpful suggestions to make your structure work better— or even cost less. We will answer your questions, help you make your color and style selections, and lead you through the process of buying a metal building.
If you need assistance in clarifying your ideal structure, we can help with that too.
The RHINO number is 940.383.9566.